A new online virtual reality (VR) skiing game has been launched that aims to "bring the mountains to ski enthusiasts … to instantly bring ski vacations to life from their homes".
The VR Ski Fit 365 game is aimed at both recreational skiers and professional runners alike, with "attractive graphics to make you really feel there, breathe in the fresh mountain air and hear the sound of crunching snow. underfoot, "say its producers Playko Studios. .
Ski Fit 365 uses virtual reality lower body leg tracking for realistic skiing ability and gives you a choice of a dozen imagined ski locations around the world and a choice of over 144 trails.
This virtual reality game can be played through any VR browser, just put the headset, the controller in your sock and instantly join a global ski community.
The game requires standard VR hardware such as the Oculus Quest 2 VR headsets (one headset and 2 manual controllers) but no PC is required, so SkiFit365 is fully self-contained, simply connecting to WiFi. Some other VR experiences require additional accessories such as body trackers.
"It's a game changer for athletes and amateurs, it's so realistic. I see huge potential for people coming back from injury, getting ready for the season as well as those who want to test their skills on the slopes. When I go to my summer ski training camps I look forward to building my ski team and seeing who I beat on Ski Fit 365 – the competition is going to be fierce, "said the British ski racer alpine Jack Gower.
VR will transport you by helicopter to the location of your choice and as you enter the lobby you are surrounded by the luxury, sights and sounds of a premium resort.
Here you'll visit the store to select your outfit from a range of free styles or enhance your ski vacation experience with in-app purchases, including more outfits, ski gear, classes, and locations. Equipped with all your equipment, head for the cable car to go up to the start of the downhill slope.
There are beginner to expert trails, but whatever your skill level you can hit the slopes with a "unique and realistic riding experience controlled by the legs", aiming for your personal best. There is a global leaderboard or you can create your own Ski Squad leaderboard with friends.
"The challenge was to create a ski game that was easy to access and entertaining while being realistic and using standard equipment. We hope fitness fans feel the burn as they focus on getting their best time while exercising their whole body. Being able to compete with friends from Ski Squad or on the World Leaderboard really brings a competitive edge to the gaming experience, "said Yinch, Game Designer, Playko Studios.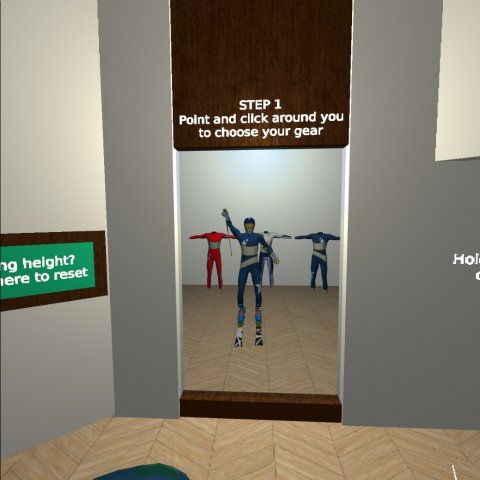 Source link